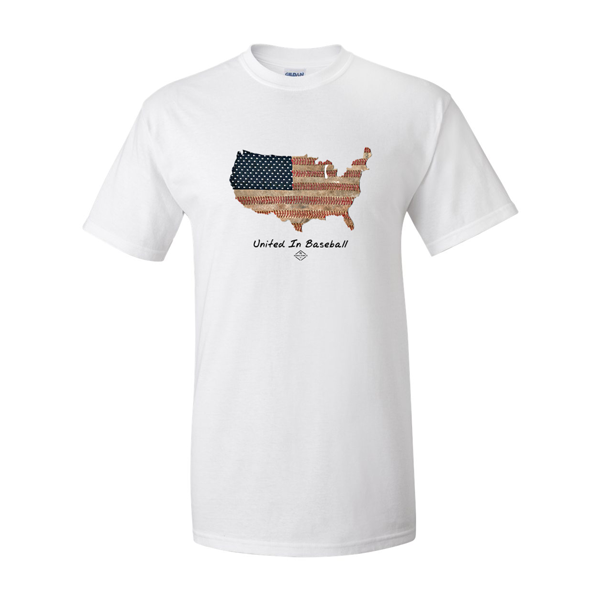 "America United" Shirt
"America United" Shirt
Sold Out
Our Artwork Captured
Baseball Seams Co presents the official America United designer tee. 
Every old, tattered baseball has a story. Scuffs from breaking balls in the dirt; ripped seams from countless hours in the cages; and grass stains from years of sacrifice and dedication. And one of the reasons baseball fans are drawn to my artwork is that they see themselves in those stories. They see their own hard work, sacrifice, and fond memories they wish they could relive just one more time. America is United by Baseball. 
Front Design: Screen print of "Seams of America" Original Artwork with phrase United By Baseball
Back Design: Screen print of Baseball Seams Co. logo 
Shirt Details:
100% ring-spun cotton
Pre-shrunk
Made of a heavier cotton and the double-stitched neckline and sleeves give it more durability
Softer and more fitted than some other t-shirt models (order one size up for regular fit)
Current Lead Time:  You can expect to receive this piece within 3 weeks of ordering.  If this is a time sensitive order, please indicate the date you "need to receive this by ____" in the Special Instructions section at checkout and we will try our best to accommodate.
About the Artist
For more information about Nate and Baseball Seams Co., check out our story.
Bulk Pricing
For bulk pricing related to wholesale or fundraising requests, or any other general artwork inquiries, please email Nathan directly at nate@baseballseamsco.com for more info.