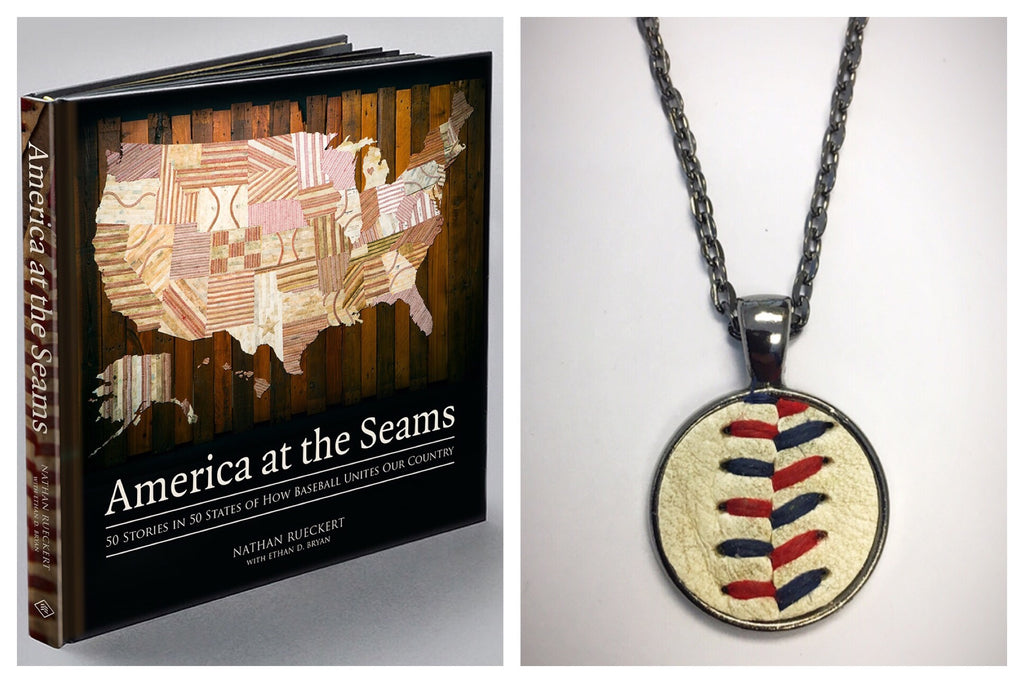 Bundle Book & Necklace
Bundle Book & Necklace
$35.00 $54.90
This bundle is geared toward the Patriotic baseball fan!  An "America At The Seams" hardcover coffee table book paired with a gunmetal necklace with red and blue seams!  Normally these two products would cost nearly $65 when purchased separately, but save BIG with this bundle deal!
The book was published in November 2017 and contains 50 stories in 50 states of how baseball unites America.  The book features vivid photography of artwork by Artist, Nathan Rueckert, of each state made from the actual seams of leather of used baseballs obtained from each of the stories in the book.  
The patriotic limited release necklace contains actual pieces of gently used Rawlings baseballs with beautiful red and blue stitching. The baseballs reclaimed into this necklace are gently used from the Atlantic League of Professional Baseball (ALPB) in celebration of their 20th Anniversary. The gunmetal baseball pendant is 20 mm in diameter and comes with a 3 mm rolo chain necklace that is long and adjustable in length. Pendant metal is made of zinc alloy and is lead and nickel free. This product was proudly handcrafted in South Dakota.