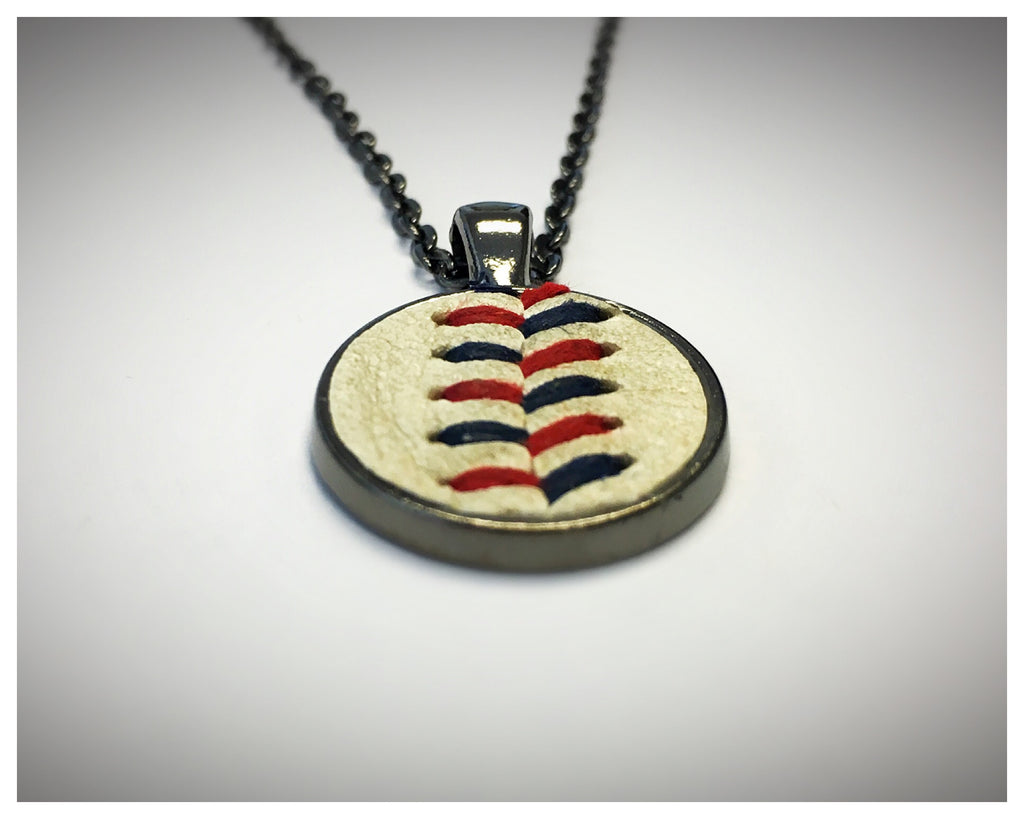 Limited Edition Patriotic Baseball Seam Pendant Necklace
Limited Edition Patriotic Baseball Seam Pendant Necklace
$14.28 $20.00
Enjoy wearing this patriotic piece today.
This patriotic limited release necklace contains actual pieces of gently used Rawlings baseballs with beautiful red and blue stitching.
The baseballs reclaimed into this necklace are gently used from the Atlantic League of Professional Baseball (ALPB) in celebration of their 20th Anniversary.
The gunmetal baseball pendant is 20 mm in diameter and comes with a 3 mm rolo chain necklace that is long and adjustable in length. Pendant metal is made of zinc alloy and is lead and nickel free. This product was proudly handcrafted in South Dakota.
Take care.
Please note it should never be worn into the shower or exposed to water, and stays in its best condition if you wear it above clothing. 
If you see loose threading or a slight color variation, no need to worry.
The natural shape of a baseball is an uncut circle. So when we cut into the baseball and stretch it out into the circle of the necklace, sometimes the threading from the seams of the baseball to escape the edges of the circle. That's completely normal, don't worry we've secured the piece to prevent any fraying. You'll notice the seams and leather may have color variation, depending on the length of time that baseball spent on the field or in contact with the soil, the baseball portion of your necklace will vary in color.
Current Lead Time:  This item is ready-to-ship. You can expect to receive this hand-crafted pieced within 1 week of ordering.  If this is a time sensitive order, please indicate the date you "need to receive this by ____" in the Special Instructions section at checkout and we will try our best to accommodate.
Disclaimer
Please note that since each artwork is individually crafted from used tattered baseballs, each artwork is uniquely different in color and appearance with scuff marks and dirt stains. In addition, some pieces of art may contain pieces of wording of the baseball manufacturer, league or associations.  Nathan Rueckert and The Baseball Seams Co., LLC is not sponsored, licensed, endorsed, or affiliated in any way by any baseball manufacturers, professional baseball leagues or competitive associations.